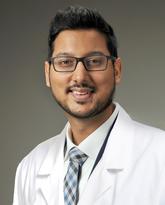 Ayaaz K. Sachedina
Clinical Assistant Professor
Cardiac Sciences
MD
University of Toronto, 2012
Research Interests
Clinical Outcomes, Quality Improvement, Education
Percutaneous Mechanical Circulatory Support
Resuscitation
Transcatheter Aortic Valve Implantation
Medical Education
Biography
Dr. Ayaaz K. Sachedina is a Canadian interventional cardiologist who completed his medical training at the University of Toronto and University of Western Ontario. He also pursued additional training in Interventional Heart Failure at the Center for Advanced Cardiopulmonary Therapeutics and Transplant, Texas Medical Center, at the University of Texas in Houston, where his focuses included percutaneous mechanical support devices, management of cardiogenic shock, and TAVI.
He has been recognized by the Canadian Cardiovascular Society, Professional Association of Residents of Ontario, and the Governor General of Canada's office for his efforts in education and community advocacy.
Dr. Sachedina's interests also include simulation in medical education, the use of percutaneous mechanical circulatory support devices in cardiogenic shock, and critical care resuscitation.

Publications
Sachedina AK, Blissett S, Remtulla A, Sridhar K, Morrison D. Preparing the Next Generation of Code Blue Leaders Through Simulation: What's Missing?. Simulation in Healthcare. 2019 Apr 1;14(2):77-81.
Sachedina AK, Mota S, Lorenzin J, Allegretti M, Leyser M, Gob A, McKelvie R. Effect of a formalised discharge process which includes electronic delivery of prescriptions to pharmacies on the incidence of delayed prescription retrieval. BMJ Open Quality. 2020 May 1;9(2):e000849.
Sachedina AK, Ajluni SC, Jumean MF. The use of a sentinel cerebral protection system during Impella CP removal in a patient with left ventricular thrombus. Catheterization and Cardiovascular Interventions. 2020 May 8.
Lavi S, Mehta SR, Bajwa R, Taleb H, Bakar SN, Sachedina A, Wagner C, Solomonica A, Awan K, Puka K, Garg P. Short durations of radial hemostatic device post diagnostic transradial cardiac catheterization–The PRACTICAL-2 randomized trial. Canadian Journal of Cardiology. 2020 Apr 24.
Kim YM, Lakin R, Zhang H, Liu J, Sachedina A, Singh M, Wilson E, Perez M, Verma S, Quertermous T, Olgin J. Apelin increases atrial conduction velocity, refractoriness, and prevents inducibility of atrial fibrillation. JCI insight. 2020 Sep 3;5(17).
Awards
Dr. John D. Brown Resident Memorial Award, Schulich School of Medicine and Dentistry, Western University (2018)
Research Award of Excellence, Division of Cardiology, Western University (2018, 2019)
Dr. Charles Kerr Award, Canadian Cardiovascular Society (2017)
Department of Medicine Kostuk Education Award, Schulich School of Medicine and Dentistry, Western University (2016, 2017)
Resident Teacher Award, PARO (2016)
Queen Elizabeth II Diamond Jubilee Medal, Governor General (2014)