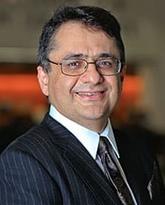 Ramin Zargham
Assistant Professor
Department of Pathology and Lab Medicine
Staff Pathologist
Alberta Public Laboratories
MD
Shahid Beheshti University, Iran, 1995
PhD
McGill University, Canada, 2007
Research and teaching
Research areas
Vascular Biology
Integrin cell adhesion receptors
Biography
Dr. Zargham earned his medical degree at Shahid Beheshti Medical School in Iran. He completed pathology residency at the Mayo Clinic in Rochester, MN where he received an annual achievement award from the Anatomical Pathology Division. He was also nominated in Pathology Research the United States and Canadian Academy of Pathology (USCAP) and The American Society for Clinical Pathology (ASCP). Following his residency, Dr. Zargham completed fellowships in Surgical Pathology and Cytopathology.
He completed a PhD in Cell Biology at McGill University. He was honoured by a nomination for McGill's best dissertation award by the experimental medicine division. Dr. Zargham completed postdoctoral fellowships at the University of Virginia and University of California, San Diego. He also completed several months of research in the field of In-vivo Microscopy at Harvard Medical School.
Dr. Zargham received two prestigious awards from the American Heart Association and published several papers including two invited and single-authored review papers in the field of vascular restenosis and integrins. Dr. Zargham has reviewed several manuscripts in the field of vascular biology for American and European Journals including the Journal of Atherosclerosis as a recognized reviewer. Currently, his main research focus is to investigate the role of Alpha8 integrin in vascular occlusive disorders. He is specifically interested in the dichotomy between proliferation and migration of smooth muscle cells.
Publications
- Halterman JA, Kwon HM, Zargham R, Schoppee Bortz PD, Wamhoff BR. Nuclear Factor of Activated T Cells 5 Regulates Vascular Smooth Muscle Cell Phenotypic Modulation. Arterioscler Thromb Vasc Biol. 2011; 31(10):2287-96.

-Zargham R. Tensegrin in context; Dual role of α8 integrin in the migration of different cell types. Journal of Cell adhesion & Migration, 2010; 4 (4): 1-6

-Per Fogelstrand, Chloé Féral, Ramin Zargham, Mark H. Ginsberg. Dependence of Activated Vascular Smooth Muscle Cells on CD98 heavy chain (4F2hc, SLC3A2). Journal of Experimental Medicine, 2009; 206 (11): 2397-2406.

-Zargham R. Preventing Restenosis After Angioplasty: A Multistage Approach. Clinical Science (London), 2008;114(4):257-64 (an Invited review).

-Zargham R., Touyz R., Thibault G. Alpha8 Integrin Overexpression in De-differentiated Vascular Smooth Muscle Cells Attenuates Migratory Activity and Restores the Characteristics of the Differentiated Phenotype. Atherosclerosis, 2007; 195(2):303-12.

-Zargham R et al. Conditions associated with the need for additional needle passes in ultrasound‐guided thyroid fine‐needle aspiration with rapid on‐site pathology evaluation. Diagn Cytopathol. 2020 Sep 1.In press.


Awards
Achievement award, Annual celebration of Anatomical pathology division, Mayo clinic, Rochester, MN 2017
Finalist for award competition, Stowell-Orbison award, USCAP, Texas 2017
Finalist for ASCP annual meeting, practical education, Las Vegas 2016
Best PhD dissertation, Experimental medicine division, McGill University 2007
Irvine Page Young Investigator Award, Finalist. Organized by American Heart Association, ATVB. As written in their website: The award recognizes investigators in the formative years of their faculty careers who have the potential to become future thought-leaders in cardiovascular research 2006
New Investigator Award, for the merit of scientific work, organized by American Heart Association. 2005