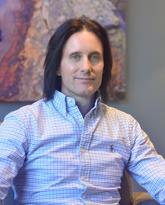 Tavis Campbell
Clinical Associate Professor
Phsychology
Clinical Adjunct Associate Professor
Oncology
PhD
McGill University, 2003
Courses
Psyc 373 Motivation
Psyc 437 Health Psychology
Research and teaching
Research areas
Behavioural medicine
Adherence
Persistence
Cardiac rehabilitation
Biobehavioural
Clinical trials
Health behaviours
Biography
Dr. Tavis Campbell is a Professor of Clinical Psychology (and Adjunct in Oncology) at the University of Calgary, where he also holds the position of Director of Clinical training. He obtained his Ph.D from McGill University and completed a Postdoctoral Fellowship at Duke University Medical Centre. His research interests involve identifying and understanding the bio-behavioral mechanisms involved in the development, progression, and management of chronic illnesses, such as CVD, cancer and insomnia. Dr. Campbell has published results from several behavior-based RCTs in the areas of cancer, pain, and chronic disease management, including the i-can sleep trial targeting insomnia. In addition, he is actively involved in the Canadian Hypertension Education Program (CHEP) and is Chair of Care Delivery for Hypertension Canada. Finally, Dr. Campbell is regularly sought out by a variety of healthcare professionals to deliver teaching and training with a focus on motivating health behavior change, improving adherence and improving patient-provider communication.
Publications
Lavoie, K. L., Rash, J. A., & Campbell, T. S. (2017). Changing provider behavior in the context of chronic disease management: focus on clinical inertia. Annual Review of Pharmacology and Toxicology. 57: 263-283.
Coats, A. J. S., Forman, D. E., Haykowsky, M., Kitzman, D. W., McNeil, A., Campbell, T. S. & Arena, R. (2017). Physical function and exercise training in older patients with heart failure. Nature Reviews Cardiology. 14(9): 550-559.
Rouleau, C. R., King-Shier, K. M., Tomfohr-Madsen, L. M., Bacon, S. L., Aggarwal, S., Arena, R., & Campbell, T. S. (2018). The Evaluation of a Brief Motivational Intervention to Promote Intention to Participate in Cardiac Rehabilitation: A Randomized Controlled Trial. Patient Education and Counseling. 101(11): 1914-1923.