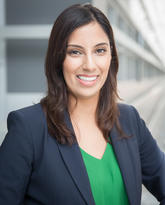 Sonia Butalia
Associate Professor
Medicine, Community Health Sciences
Research and teaching
Research areas
Diabetes and Cardiovascular Risk Factors
Prevention of Cardiovascular Disease
Discovery of Novel Risk Factors for Diabetes
Biography
Dr. Sonia Butalia is an Associate Professor in the Departments of Medicine and Community Health Sciences at the University of Calgary. Dr. Butalia is actively involved in clinical medicine, research, and teaching. She was awarded prestigious fellowship awards from the Canadian Institutes of Health Research (CIHR) and Alberta Innovates-Health Solutions (AI-HS) during her training. She now holds the National Diabetes Canada New Investigator Award.
Her research interests are in innovative tools and strategies to improve diabetes and other cardiovascular risk factors in the community. Her program of work importantly engages and is informed by people with diabetes (i.e. patients), physicians, care providers and decision-makers.
Finally, she is a co-author of several national clinical practice guidelines for Diabetes Canada (formerly the Canadian Diabetes Association) and Hypertension Canada. Follow her on Twitter @Sonia_ButaliaMD.