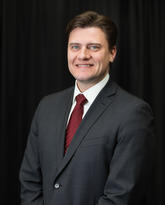 Daniel Holloway
Assistant Professor
Cardiac Sciences
Program Director
Cardiac Surgery Training Program
Cardiac Surgeon
Cardiac Sciences
FRCSC
Royal College of Physicians and Surgeons, 2017
MD
Queen's University, 2011
MSc
University of British Columbia, 2006
Biography
Dr Holloway is originally from BC and moved to Calgary for Cardiac Surgery training in 2011. After completing training, he performed an advanced fellowship in cardiac transplant and mechanical circulatory support at Northwestern University in Chicago, Ill. Returning to Calgary, his clinical practice includes adult cardiac surgery, minimally invasive aortic valve surgery, transcatheter interventions (TAVI), and mechanical circulatory support.
As Program Director for the cardiac surgery residency program, he is directly involved with education and training of future cardiac surgeons.
Research interests include simulation and education, surgical innovation, and medical device development.