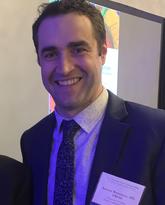 Kenton L. Rommens
Vascular Surgeon
Department of Surgery, Division of Vascular Surgery
Clinical Assistant Professor
Department of Surgery
Vascular Surgeon
Calgary Aortic Clinic
MD
University of Alberta, 2011
General Surgery
University of Calgary, 2016
Vascular Surgery
University of Calgary, 2018
Advanced Thoracic Aortic Surgery
University of Texas Health Science Center at Houston, 2019
Research and teaching
Clinical Research
Thoracoabdominal Aneurysm Repair
Spinal Cord Ischemia
Endovascular Aortic Arch Reconstruction
Vascular Surgery Quality Improvement
Congenital Aortopathy
Biography
Dr. Kenton Rommens obtained his MD at the University of Alberta and completed his General Surgery and Vascular Surgery training at the University of Calgary. He then completed an Advanced Thoracic Aortic Surgery and Structural Heart fellowship at the University of Texas Health Science Center at Houston with Drs. Hazim Safi and Anthony Estrera. This focused on open thoracoabdominal and aortic arch surgery as well as endovascular repair of the aortic arch. He returned to Calgary with the Division of Vascular Surgery in November 2019 and is excited to be a part of the multidisciplinary Calgary Thoracic Aortic Program.
Publications
Wierstra, B., Au, S., Cantle, P., & Rommens, K. (2020). Arterial Placement of Central Venous Catheters: Beyond Prevention to Management. Canadian Journal of General Internal Medicine, 15(3), 45-48. https://doi.org/10.22374/cjgim.v15i3.398
Rommens KL, Estrera AL. Contemporary Management of Aortic Arch Aneurysm. Semin Thorac Cardiovasc Surg. 2019 Winter;31(4):697-702. doi: 10.1053/j.semtcvs.2019.03.011. Epub 2019 Apr 11. PMID: 30980932.
Saqib NU, Ray HM, Al Rstum Z, Rommens KL, Safi HJ, Estrera AL. Endovascular Repair of Ruptured Ascending Aorta Secondary to Embolized Transcatheter Aortic Valve. Ann Thorac Surg. 2020 Mar;109(3):e187-e189. doi: 10.1016/j.athoracsur.2019.06.098. Epub 2019 Aug 24. PMID: 31454526.
Awards
HELIOS Scholarship, 2018 recipient, Cumming School of Medicine