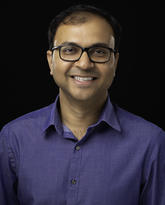 Vaibhav Patel
Assistant Professor
Medicine, Physiology & Pharmacology
PhD
University of Baroda, India, 2011
Postdoctoral Fellowship
University of Alberta, Canada, 2016
Research and teaching
Research areas
Myocardial infarction
heart failure
aortic aneurysm
diabetic cardiovascular complications
intracellular communications
exosomes
Biography
Dr. Vaibhav Patel is a basic research scientist at the University of Calgary in the Department of Physiology and Pharmacology. He obtained his Ph.D. degree at M. S. University of Baroda, India in 2011 and then worked as a postdoctoral fellow at Department of Medicine, University of Alberta. During his graduate and postgraduate training, Dr. Patel received various awards including national doctoral fellowship, University of Alberta Department of Medicine translational research fellowship, Dr. Francis Witkowski publication award, Alberta Innovates – Health Solutions and Heart and Stroke Foundation postgraduate fellowships. During his postdoctoral training, Dr. Patel's translational research focused on the role of ACE2/Ang 1-7 in cardiovascular disease and investigated the potential of enhancing ACE2 as a therapy for diabetic cardiovascular complications. He also investigated the novel role of adverse cytoskeletal remodeling in the progression of heart failure. He has published over 35 peer-reviewed manuscripts and 2 book chapters. Dr. Patel's research interests lie in the role of intercellular communications in cardiac and vascular disease. His current focus is to identify the potential role of perivascular adipocyte-secreted exosomes in intercellular communications and modulation of renin-angiotensin system in the vascular smooth muscle cells and endothelial cells and their impact on vascular disease.
Publications
Patel VB, Zhabyeyev P, Chen X, Wang F, Paul M, Fan D, McLean BA, Basu R, Zhang P, Shah S, Dawson JF, Pyle WG, Hazra M, Kassiri Z, Hazra S, Vanhaesebroeck B, McCulloch CA, Oudit GY. (2018) PI3Kα-regulated gelsolin activity is a critical determinant of cardiac cytoskeletal remodeling and heart disease. Nat Commun. 9(1):5390.
Patel VB, Mori J, McLean BA, Basu R, Das SK, Ramprasath T, Parajuli N, Penninger JM, Grant MB, Lopaschuk GD, Oudit GY. (2016) ACE2 deficiency worsens epicardial adipose tissue inflammation and cardiac dysfunction in response to diet-induced obesity. Diabetes. 65(1):85-95.
Patel VB, Zhong J, Grant M, Oudit GY. (2016) Role of the ACE2/Angiotensin 1-7 axis of the Renin-Angiotensin System in Heart Failure. Circ Res. 118(8):1313-26.
Patel VB, Zhong JC, Fan D, Basu R, Morton JS, Parajuli N, McMurtry MS, Davidge ST, Kassiri Z, Oudit GY. (2014) Angiotensin-converting enzyme 2 is a critical determinant of angiotensin II-induced loss of vascular smooth muscle cells and adverse vascular remodeling. Hypertension. 64(1):157-64.
Patel VB, Wang Z, Fan D, Zhabyeyev P, Basu R, Das SK, Wang W, Desaulniers JL, Holland SM, Kassiri Z, Oudit GY. (2013) Loss of p47phox Subunit Enhances Susceptibility to Biomechanical Stress and Heart Failure due to Dysregulation of Cortactin and Actin Filaments. Circ Res. 112(12):1542-56.
Patel VB, Bodiga S, Fan D, Das SK, Wang Z, Wang W, Basu R, Zhong JC, Kassiri Z, Oudit GY. (2012) Cardioprotective effects mediated by AT1 receptor blockade and enhancing Ang 1-7 in experimental heart failure in ACE2-null mice. Hypertension. 59(6):1195-203.
Patel VB, Bodiga S, Basu R, Das SK, Wang W, Wang Z, Lo J, Grant MB, Zhong JC, Kassiri Z, Oudit GY. (2012) Loss of ACE2 exacerbates diabetic cardiovascular complications and leads to systolic and vascular dysfunction: a critical role of the Ang II/AT1 receptor axis. Circ Res. 110(10):1322-35.