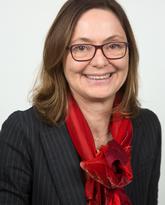 Elena di Martino
Professor
Civil Engineering
PhD
University of Milano, 1999
Courses
BMEN 600 Frontiers in Biomedical Engineering, September to December 2018
BMEN 525 Biomechanics of Tissues, January to April 2019
BMEN 301 Introduction to Biomedical Engineering, September to December 2019
Biography
After completing a PhD in a collaborative program between the University of Milano and Politecnico of Milano, Dr. Di Martino spent two years at the University of Pittsburgh as a research associate. Subsequently she was a research faculty at Carnegie Mellon University (in Pittsburgh), and moved to Calgary, Alberta as an Assistant Professor in 2007. Dr. Di Martino is a professor in the Department of Civil Engineering and the Director of the Centre for Bioengineering Research and Education (CBRE). She recently led a task force design a new degree program in Biomedical Engineering.
Publications
T. Sigaeva, G. Sommers, G. Holzapfel, E.S. Di Martino, Anisotropic Residual Stresses in Arteries, J Royal Society Interface, Vol.16(151), 2019. doi:org/10.1098/rsif.2019.0029
E. Bollache, D.G. Guzzardi, S. Sattari, K.E. Olsen, E.S. Di Martino, S.C. Malaisrie, P. van Ooij, J. Collins, J. Carr, P.M. McCarthy, M. Markl, A.J. Barker, P.W.M. Fedak, Aortic-valve mediated wall shear stress is heterogeneous and predicts regional aortic elastic fiber thinning in bicuspid aortic valve-associated aortopathy, The Journal of Thoracic and Cardiovascular Surgery, Vol.156(6):2112–2120, 2018, doi:10.1016/ j.jtcvs.2018.05.095.
G. Martufi, S. Nobakth, A. Forneris, K.D. Rinker, R. Moore, E.S. Di Martino, Case Study: Intra-Patient
Heterogeneity of Aneurysmal Tissue Properties, Frontiers Cardiovascular Medicine, Vol 5, Article 82, 2018 doi: 10.3389/fcvm.2018.00082.
A. Satriano, E. Vigmond, D. Schwartzman, E.S. Di Martino, A Feature-Based Mechano-Electric Finite Element Model of the Left Atrium with Pressure-to-Mitral-Flow Coupling, Computers in Biology and Medicine Vol. 96:24-31, 2018
EH Stephens, J Han, EA Trawick, ES Di Martino, H Akkiraju, LM Brown, J Connell, KJ Grande-Allen, G Vunjak-Novakovic, H Takayama. Left-Ventricular Assist Device Impact on Aortic Valve Mechanics, Proteomics and Ultrastructure, The Annals of thoracic surgery Vol. 105 (2): 572-580, 2018.
N.L. Rosin, N. Agabalyan, K. Olsen*, G. Martufi*, V. Gabriel, J. Biernaskie, E.S. Di Martino. Collagen Structural Alterations Contribute to Stiffening of Tissue After Split-Thickness Skin Grafting. Wound Repair Regen. Vol. 24 (2): 263-274, 2016, doi: 10.1111/wrr.12402.
G. Martufi, A. Forneris, J.J. Appoo, E.S. Di Martino. Is there a role for biomechanical engineering in helping to elucidate risk profile of the thoracic aorta? Annals of Thoracic Surgery. Vol. 101(1): 390-8, 2016. *Featured on the cover.
G. Martufi, A. Satriano, R.D. Moore, D.A. Vorp, E.S. Di Martino. Local quantification of wall thickness and intraluminal thrombus offer insight into the mechanical properties of the aneurysmal aorta. Annals of Biomedical Engineering. Vol. 43(8): 1759-71, 2015.
Satriano, S. Rivolo, G. Martufi, E.A. Finol, E.S Di Martino. In vivo strain assessment of the abdominal aortic aneurysm. J Biomech. Vol. 48(2):354-60, 2015. doi: 10.1016/j.jbiomech.2014.11.016. *Featured on the cover.
G. Martufi, T.C. Gasser, J.J. Appoo, E.S. Di Martino, Mechanobiology in the Thoracic Aortic Aneurysm: a review and case study, Biomechanics and Modeling in Mechanobiology, Vol. 13(5):917-28. 2014 doi: 10.1007/s10237-014-0557-9.
C. Bellini, J. Ferruzzi, S. Roccabianca, E.S. Di Martino, J.D. Humphrey, A Microstructurally-Motivated Model of Arterial Wall Mechanics with Mechanobiological Implications, Annals of Biomedical Engineering: Vol. 42, Issue 3:488-502, 2014.
(selected publications out of more than 45 international publications)

Awards
2017 Peak Scholar in Innovation and Entrepreneurship University of Calgary
2006 Samuel and Emma Winters Foundation Biomedical Research Award, Pittsburgh, PA
2002 Perkins Prize awarded by the Institute of Physics and Engineering in Medicine for the best paper published in Med. Eng. & Phys Journal.