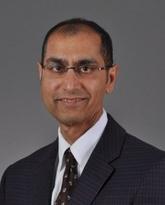 Sandeep Goel Aggarwal
Clinical Professor
Cardiac Sciences
Cardiologist
Cardiac Function Clinic
MD
University of Toronto, 1989
Biography
Dr. Aggarwal graduated from the University of Toronto in Medicine and has been a member of Libin since its inception. His main research interests are improving the delivery and care of Cardiac patients through Cardiac Rehabilitation. These innovations have made Calgary a centre of excellence in the Cardiac Rehabilitation.
Publications
1. Derek V. Exner, MD, MPH*, ,1,*, Katherine M. Kavanagh, MD*, , Michael P. Slawnych, MD, PhD*, L. Brent Mitchell, MD*, Darlene Ramadan, BSN*, Sandeep G. Aggarwal, MD*, Catherine Noullett, RN*, Allie Van Schaik, RN , Ryan T. Mitchell, BSc*, Mariko A. Shibata, BSc*, Sajad Gulamhussein, MD , James McMeekin, MD*, Wayne Tymchak, MD , Gregory Schnell, MD*, Anne M. Gillis, MD*,2, Robert S. Sheldon, MD, PhD*, Gordon H. Fick, PhD , Henry J. Duff, MD*: Noninvasive Risk Assessment Early After a Myocardial Infarction. J Am Coll Cardiol, 2007; 50:2275-2284, doi:10.1016/j.jacc.2007.08.042
This study which has been cited 366 times is the basis of a multicentre randomized control trial (REFINE-ICD). My involvement was as a local investigator at the Rockyview General Hospital where I enrolled patients and supervised procedures. This lead to my taking a lead as Research Echo Director in Dr. Derek Exner's Research lab.
2. Aggarwal S, Moore RD, Arena R, Marra B, McBride A, Lamb B, Martin BJ, Stone J.; Rehabilitation Therapy in Peripheral Arterial Disease. Can J Cardiol. 2016 Oct;32(10 Suppl 2):S374-S381
This article was a summary of the literature as it pertains to Peripheral Arterial Disease rehabilitation with an emphasis on the practical implementation of PAD exercise training. It has been cited 11 times and as the lead author I was responsible for researching the topic and creating the first draft. We have been successfully performing cardiac rehabilitation on these patients are seeing large benefits in a population that is underserved and needs better medical treatment. In addition this has lead to a randomized clinical trial that is currently being prepared by one of the vascular fellows (Andrea Devroome). We expect this study will lead to further changes in the PAD guidelines.

3. Parker K, Stone JA, Arena R, Lundberg D, Aggarwal S, Goodhart D, Traboulsi M: An early cardiac access clinic significantly improves cardiac rehabilitation participation and completion rates in low-risk ST-elevation myocardial infarction patients. ; Can J Cardiol. 2011 Sep;27(5):619-27. Epub 2011 Apr 7.
This study was based on a new process for early access to Cardiac Rehabilitation after a cardiac event. I spearheaded the new process in Calgary and was successful in changing the delivery of cardiac rehabilitation from a 6 month wait to a 2 week wait. We have shown that not only could it be done but that it was safe. In addition it has influenced the Canadian Cardiovacular Society Guidelines and was one of the studies that lead to a randomized control trial. In Canada we are still one of the few programs that can deliver this care in a timely fashion. Our data was reproduced in Edmonton (RADAR study). We built on this success and have been able to expand our criteria for early access. We are now also doing earlier access for cardiac surgery patients after surgery and expanding to a prehab program for those that are waiting for surgery as outpatients.
4. Martin B, Hauer T, Arena R, Austford L, Galbraith D, Lewin A, Knudtson M, Ghali W, Stone J, Aggarwal S, Cardiac Rehabilitation attendance and outcomes in coronary artery disease patients. Circulation 07/2012
This study was able to demonstrate using propensity analysis on a merged Cardiac Rehabilitation-APPROACH database that there was substantial benefit in terms of reduction in cardiac events and mortality when comparing a comprehensive cardiac rehabilitation program to those that did not attend. This study has lead to a number of published substudies showing that CR is underutilized in older patients and women. These were also the ones that benefited the most from CR. In addition we used this study to perform and publish am economic analysis of CR. We are now working with the Libin Cardiovascular Institute to perform several trials in CR. With the large database of patients as a background we are also planning using machine learning to analyze this database in new and innovative way (Ethics approved). As a senior author I was instrumental in the inhiation and completion of this project.
5. Leggett L, Hauer T, Martin B, Manns, B, Braden Manns, Aggarwal S, Arena R, Austford D, Meldrum D, Ghali W, Knudtson, M, Norris C, Stone J, Clement F; Optimizing Value From Cardiac Rehabilitation: A Cost-Utility Analysis Comparing Age, Sex, and Clinical Subgroups; Mayo Clinic Proceedings 90(8) · July 2015
This cost-Utility analysis was an important step in showing the value in cardiac rehabilitation. We were able to demonstrate that the benefits are cost effective for all but in particular those that have the highest risk. We have subsequently been continue to bend the cost curve by providing CR to more patients with level costs. As a senior author on the Attendance and Outcomes trial my role was to facilitate the use of those result in this analysis.