The Beat Goes On Gala
Come celebrate with the Libin Institute and support cardiovascular health care, research and education.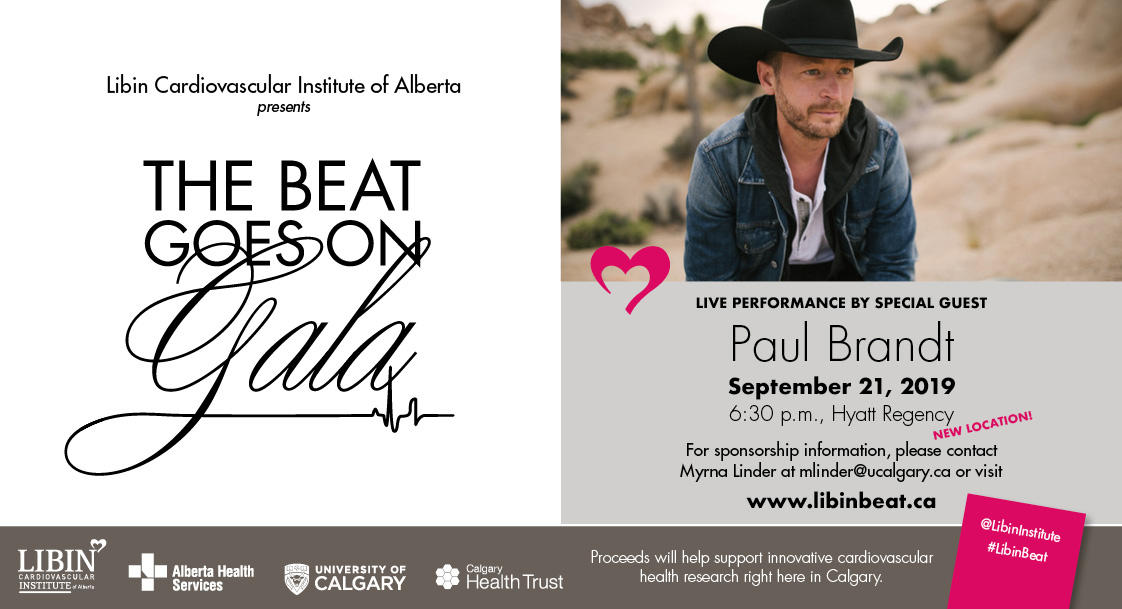 Close to his Heart: Paul Brandt to perform at Libin Institute gala
Singer-songwriter Paul Brandt understands the impact that heart disease can have on patients and their families and friends.
Not only is Brandt a former nurse who worked with paediatric heart patients before becoming a full-time musician, but like many, his family has also been impacted directly by heart disease.
"My father-in-law had a heart attack," says Brandt. "He ended up with Parkinson's disease, and he is gone now."
Brandt explains there is evidence that the trauma of the heart attack triggered the onset of the Parkinson's disease, noting his father-in-law felt his first tremor while being treated for his cardiac issues.
His personal experience with cardiac health is a big reason why Brandt decided to perform at this year's The Beat Goes On Gala, the Libin Cardiovascular Institute's premier charity event, which is scheduled for Sept. 21 at the Hyatt Regency Calgary.
"I love using my platform to bring attention to causes that are really important," says Brandt. "Excellence in health care is something we should always be striving for."
Brandt is no stranger to championing causes.
He is president and founder of The Buckspring Foundation, a charitable organization focused on meeting the needs of others, both locally and globally. The foundation has been involved in numerous projects, such as rebuilding the Slave Lake Public Library after the community was devastated by wildfire, and helping victims of the Haiti earthquake.
Brandt noted he is taking part in the Libin gala due, in part, to his association with The Flames Foundation, which supports the Libin Institute. He is also involved in numerous other causes such as Rotary Flames House, which provides paediatric hospice care to families in need.
"It is a proud association," he says.
Brandt, who grew up in Calgary and still lives in southern Alberta, is excited to be able to combine his passions for music and helping others by performing at the gala. He says attendees can expect to hear a mix of old and new songs, with stories sprinkled throughout. 
"It is going to be a great intimate show," he says. "I love it when the crowd is engaged. There is a communication that happens between myself and the audience. I live for that."
Get your tickets today!
The Beat Goes On Gala is held annually in September to raise proceeds to support cutting-edge research and care delivery initiatives at the Libin Cardiovascular Institute of Alberta. 
With the support of its partners, the Libin Cardiovascular Institute of Alberta, the University of Calgary, Alberta Health Services and the Calgary Health Trust, the gala has raised more than $4 million since its inception in 2014.
The Beat Goes On Gala 2018
The fifth annual The Beat Goes On Gala raised $900,000 for cardiovascular research. The black-tie event, held at the BMO Centre on Sept. 8, was sold out and featured a multi-course dinner and feature entertainment by Steven Page and Odds. 
To see more photos from the event, visit us on Facebook by clicking here.