The Libin Cardiovascular Institute adopted the Compression Only Resuscitation for Everyone (CORE) project in 2020 to teach Hands-Only CPR. Libin Clinical Engagement Specialist, Heather Agren, RN, BN was inspired to develop this education program after her friend lost her father, Ken, to sudden cardiac arrest.
Although Ken was surrounded by people, CPR was not initiated. The devastating incident inspired Heather to make it her mission to teach as many people as possible the critical skill of Hands-Only CPR. 
Sadly, Ken's story isn't that uncommon. An estimated 35,000 Canadians die each year from sudden cardiac arrest. These patients effectively drop to the ground, and have no pulse, because their heart malfunctions and stops beating suddenly.  About 80 per cent of those events happen at home.
Fortunately, there is something all of us can do. If everyone knew to immediately call 911, administer Hands-Only CPR and when available, use a defibrillator, many lives could be saved. In fact, the survival rate of patients doubles when quick action is taken.  
How to administer Hands-Only CPR
Hands-Only CPR is a set of short and simple steps that can be done by anyone - even children. It can be used in response to sudden cardiac arrest which cause an estimated 41,000 deaths each year in Canada.
If you want to learn how to do this simple technique and become a Libin Heart Hero, watch the kid-friendly video below. Doing so will help you and your child feel empowered if this life-threatening emergency occurs in your home.
Become a Libin Heart Hero
By practicing along with the video, you have become a Libin Heart Hero! To celebrate your success with your kids, please download and print this certificate. Take a photo of your kids' colouring, and post it on Twitter or Facebook with the hashtag #LibinHeartHero, tag us at @LibinInstitute (Twitter) or @LibinInstituteAB (Facebook) to see your work highlighted!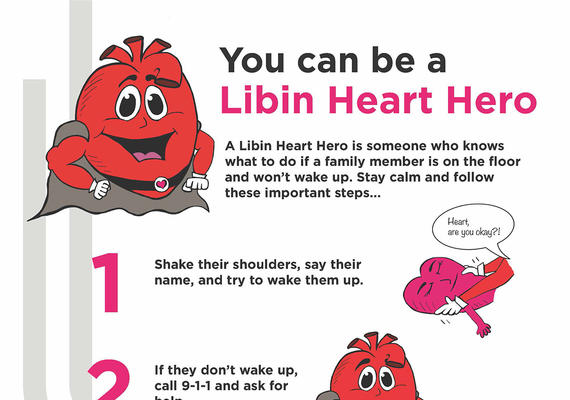 Libin Heart Hero
Meet our Libin Heart Hero. He is brave and strong because he knows what to do in case of a cardiac emergency! Download this poster after watching our video as a reminder of the steps you should take in case of a cardiac emergency.